A Decade in Tomes
The last ten years has offered up an eclectic range of new fiction that has challenged and changed how and what we read. Below, I've collected a handful of iconic or influential books of the last 10 years that show how new stories are being welcomed onto our shelves.

2009: Wolf Hall by Hilary Mantel
'Beneath every history, another history.'
Mantel's sympathetic portrayal of Thomas Cromwell offered a new perspective on the royal court and family, and how England's government grew from corruption and pain. It is a lengthy book and series (one I haven't finished, and do not intend to), but Britain loves nothing more than finding out the dirty details of apparently untouchable sovereignty. Wolf Hall presents its reader with a window into the inner workings of the past to revel in the disturbing partnership of violence and power, and critique the foundations of the country, because they're rotten as Hell. It asks who has the authority to tell which stories, questions the worth of fighting for legacy when it will inevitably crumble away, sluggishly pulling itself along a path of bribery, scandal, and misogyny.
I didn't personally enjoy this novel, but Mantel's writing has a vague coldness, a dry, but scathing tone to it that I initially found intriguing, and she expresses the banal drudgery of forging a path in an otherwise gloomy and systemically oppressive world with prose that feels soaked with rain. However, considering our current contemporary political situation, I'm interested in picking up this novel again and taking another stab at it, to submerge myself in a piece that refuses to dress up Britishness in ribbons and jewels, but soaked in the fetishized and mutilated bodies of women, and other such grisly things. Our government is run by wolves draped in bloody gowns, poorly posing as sheep, and it seems that the majority of us pretend not to see past it – seems like a fitting book to take a crack at a decade on.
If you're interested in these sorts of tales, I recommend Hilary Mantel's nonfiction essay on how we perceive our monarchs, specifically the bodies of royal women, appropriately entitled 'Royal Bodies'.

2010: Mockingjay by Suzanne Collins
'There are much worse games to play.'
The conclusion of Suzanne Collins' landmark dystopian fiction is noteworthy in the way it changed how we discuss, market, and write young adult literature. How many dystopian books published in the last several years have been called 'the next Hunger Games' but fallen short because such a blanket statement fails to celebrate originality and ironically enforces conformity to published trends for capital or commercial success? It was a story that a generation grew up with alongside the oversaturation of apparent copy-cats, but the Hunger Games franchise remains an undefeated and undisputed champion of publishing's own cannibalistic score board.
The series tackled ideas of government control, how the media is manipulated into an exploitative tool of corrupted authority that deliberately dissembles harm with silly love triangles, and how the younger generation are made to become the soldiers in the war against oppression when the adults are powerless. It is also notable in how it refused to placate or patronise its audience; characters died, were mutilated, lost limbs, lost their sanity, but Katniss' strength saw them through to the final (controversial) epilogue. It's a story about survival and trauma, that casts a critical, seemingly prophetic gaze onto the cycles of war and dictatorship in contemporary times.
The staying power of the entire franchise is not just in its three-finger scout salutes, or the terrible thrill of the new technology created for each quell, but the determined attitude of its protagonist; how the rage and determination of young women can make change, define a new generation, and beat the bad guys. Regardless of your feelings about the ending of the series, it's hard to imagine our current YA publishing world without its influence.
If you are interested in getting back into dystopian YA, I recommend checking out Scythe by Neil Shusterman and the Chaos Walking series by Patrick Ness for some gritty, thought-provoking stuff.

2011: Fifty Shades of Grey by EL James
'Why are we looking at a playroom? You want to play on your Xbox?'
I didn't say that the books on this list had to be good. But it is unquestionable that the Fifty Shades series was A Huge Deal of the 2010s.
It is the story of a young woman who gets into a very problematic relationship with a businessman who eventually gets jealous of an unborn baby, and their abusive, harmful sex life which masquerades as BDSM. If anything, I'm glad that this book provoked important discussions regarding how to have safe, kinky sex, and how to establish your boundaries so that you don't end up in an Anna/Christian situation. Those conversations, and chats about your personal bedroom preferences, are crucial to have not only with partners but with yourself. A lot of readers, especially women, receive an undue amount of criticism and shame when they admit they like to read romance and/or erotica, and at least this book (however crass and violent) allowed people a means of embracing their inner goddesses, and bring a celebration of pleasure to a public platform.
The novel also brought up questions of plagiarism and fair use, as it was originally a work of Twilight fanfiction before the names were changed for the public market: does this violate Meyer's copyright despite being a transformative piece? Who owns writing, or an idea, and what measures have we got in place to protect people who could be victims of plagiarism?
I think that, despite the issues with the novel's content, you can't fault the valuable conversations Fifty Shades has sparked around book clubs and various deconstructive video essays on YouTube. Unfortunately, however, I don't have a list of well-written erotica to direct you towards instead (please let me know if you do).

2012: Gone Girl by Gillian Flynn
' "I like strong women" is code for "I hate strong women." '
Similar to how The Hunger Games was used as a marketing tool for YA books, it seems as though every and any domestic thriller in recent years is 'the next Gone Girl': The Wife Between Us or Behind Her Eyes or countless other slightly off-kilter and disturbing books that promise destabilising relationships and poisonous plans. The twists, turns, and terror of the plot have come to represent the genre as a whole (although I personally prefer Sharp Objects), and nobody can deny that you could power your lightbulbs by merely harnessing the raw energy of the 'cool girl' monologue.
The book is about the tumultuous marriage of Nick and Amy, which is thrown into further turmoil when Amy apparently goes missing. The following rollercoaster of shock and betrayal, with its delightfully bleak ending, disguises a toxic love story. The bit with the shed? The broken wine bottle? I wince at the thought of it, even now. Gone Girl is a masterclass in creating atmosphere and detestable characters that you still sort of fall for, and the fierce writing style coyly beckons you into embracing your insatiable need to know what happens behind the closed doors of other people. Moreso, I think its appeal also has something to do with how Flynn taps into the darker aspects of femininity and womanhood (a continuing theme in her books), and asks: well, wouldn't you do it too, if you could get away with it? She opens up the dark rabbit hole, and kicks you into it.
If you want to get more thrills and chills like Gone Girl (I can jump on the promotional bandwagon, too), I recommend No Exit by Taylor Adams and Rebecca by Daphne Du Maurier.
2013: Americanah by Chimamanda Ngozi Adichie
'I only became black when I came to America.'
'Americanah is an exploration of what makes a community and what makes us belong. The protagonist, Ifemelu, is in many ways a vessel for a new portrayal of the particular intersection of isolation felt by African women in the United States, who find themselves categorised as black women for perhaps the first time. Additionally, it discusses the tension Ifemelu encounters when she returns to Nigeria as a result of her education and feminist views.
This book came at the forefront of a movement truly showing the internal – and everyday – lives of black, immigrant women. It weaves in discussions of race, hair, and identity with odes to Nigerian street food and awkward social interactions, like being hit on by a stranger in a train. This excellent depiction of what normality looks like in a culture many readers maybe wouldn't have known about prior to this. It is a novel about home, in whatever form it takes.' – Lucie Vovk.
If you are interested in reading more novels about African women in America, I recommend checking out We Need New Names by NoViolet Bulaywo, which is about a young girl called Darling who moves to America from Zimbabwe. Nervous Conditions by Tsitsi Dangarembga is also a coming-of-age novel set in Zimbabwe about a young girl moving into her affluent uncle's house and the struggles she experiences as she starts a colonial-approved education.

2014: The Goldfinch by Donna Tartt
Theo Decker survives the bombing of an art gallery, and steals a famous painting on the way, setting off on a paranoid path to find scraps of family again while evading the authorities.
Donna Tart knows how to write insufferable human beings and intricate descriptions of the most mundane things, and I think her popularity stems from the ways in which her books allow readers to revel in these things; the fun of watching shitty people get their comeuppance, and of finding beauty in a jar of cherries or discarded drug paraphernalia. Her books also discuss adolescence as a suspended thing, full of difficult truths and idiocy, painted over with gold. It lures us into a nostalgic soup of hormones and bad decisions that we can't escape.
The Goldfinch is fucking long, though, and Tart tends to write the same 'no homo', repressed bisexual, slur-using, misogynist men in every book she comes out with, so I understand why she isn't for everyone. This book, however, captured attention not only due to its length, but by its Pulitzer Prize win. It's a book that screams pretentious, and it delivers that sentiment, but it also manages to have moments of genuine heart that elevate it beyond mere waffling.
For more long gazes at life and the paths we take down it, I recommend revisiting Great Expectations by Charles Dickens, for a story of how one action sets off an unpredictable chain of events towards our truths. If you're interested in stories about teenager-hood, I think Cat's Eye by Margaret Atwood skilfully captures the terrors and traumas of adolescence with a keen, cold prose.

2015: A Little Life by Hanya Yanagihara
'Life is so sad. It's so sad, and yet we all do it.'
This book is not for the faint of heart, nor for those who will sit back and allow their faves to be brutalised for the sake of it. A Little Life is a gigantic doorstop of a book, following the relatively large lives of four New York friends as they navigate their careers, relationships, and their individual traumas. The book is an exercise in misery and human resistance to great pain, and ultimately tortures its characters just to see what will happen. Any trigger you can think of? It's here. Any hardship a person can befall? It's here, too! Why? Because fuck you, life is hard.
It's very polarising, with readers either loving the depth of feeling and catharsis that the book offers, or they hate it for its manipulative and endlessly cruel narrative. The LGBT representation is frustrating, the lack of progress is frustrating, the whole book is a simulation in frustration, but its sheer determination to keep on wrenching the IV drip of hell up and up is what makes it compelling, and made it a book that sparked so much debate about how we use art to portray mental illness. Is it the job of this book to be relatable, or even realistic, if the consequences of continuously bizarre, out-of-the-blue events provoke emotions that are relatable and realistic? Is it harmful of the book to contain harm? Is a book that ends with such a bleak outlook worth the time it took to read?
A Little Life discusses art, sex, poverty, the concept of family, and the ways in which our efforts to help others may end in heartbreak because fuck you, life is hard. It's a book that I recommend binging in as few sittings as possible if you can, to get the full rush, and then writing a very long Goodreads review while using the thing as the doorstop it is, so every time you stub your toe on it, you're just further immersing yourself in the experience.
For fans of this book, I recommend Patrick White's The Twyborn Affair for a similarly long and pensive meandering through life, and There There by Tommy Orange, if seemingly unending punches to the heart are your style.
2016: The Vegetarian by Han Kang
'Leaves are growing out of my body.'
One day, Yeong-hye decides to stop eating meat. Then, she gives up food altogether. Around her, life falls to pieces. Contained within this very short novel is a thunderous and disturbing story of control, humanity, and identity. I did not buy my own copy of this book; it was recommended and lent to me by someone I have not seen in about three years, who stopped responding to our group chat messages soon after she left it in my care. Wherever she is, I hope she is at least free of the haunting hold this book has had on me.
The Vegetarian is a bit of a cheat on this list, considering that the English translation didn't make its way to the United States until 2016, despite being originally published in Korea in 2007. It won the International Booker Prize in 2016, too, and I think deserves a place on this list for representing a doorway into translated Asian fiction, and getting people talking about/seeking out non-Western fiction in general. It is also a testament to imagination, creativity, and grips you from the start in the way the best sorts of stories do.
Sometimes I find it hard to figure out if, when Asian books are described in reviews as weird or unsettling, those reviews are genuinely commenting on the intentional atmosphere of the piece, or are merely unable to relate to the behaviours displayed by people from other cultures or countries and thus become quite Othering and gross.
That being said, The Vegetarian is genuinely frightening and uncomfortable at times because it is about a woman loosening herself from the confines of her society, from the confines of her own identity as a human being, striving to become another form of life. This is scary because you find yourself wondering if you should try a similar thing. It's about women's bodies, and what threatens them. Like all good horror, it is scary because it is so close to something genuine and real, rather than something Other to what we think we know.
For more translated fiction from Asia with strange atmospheres, I recommend The Diving Pool by Yoko Ogawa. If you're looking for something with a lighter feel and tone, maybe check out Strange Weather in Tokyo by Hiromi Kawakami.

2017: The Hate U Give by Angie Thomas
'What's the point of having a voice if you're gonna be silent in those moments you shouldn't be?'
This book continues to storm the bestseller charts, and it deserves it. The story of a young girl, Starr, who must find the strength in her voice when she witnesses a policeman murder her innocent friend. Commenting on police brutality, racism, and the oppression of black people in America, Angie Thomas' book also deftly tackles the everyday concerns of high school; should Starr take her boyfriend back? What do you do when your friends start treating you differently? It is a painful book to read, but ultimately a loud shout for empowerment and respect, headed by a fantastic protagonist. Starr is smart and sensitive, and it's impossible not to want to jump into the pages and wrap her up in a huge hug.
Angie Thomas writes with such passion and pathos, and for young black kids. She is showing them that their voices are important, and that they can be heroes, not just sidekicks or tragedies. This is awesome, and done in such a tender way that treats its readers as the mature people they are, and doesn't patronise them. Thomas shows the brutality of police and gun violence, but also the beauty of family and community.
If you're interested in reading more contemporary YA that celebrates the power of voices and innovative youth, I highly recommend The Poet X by Elizabeth Acevedo, and Let Me Hear A Rhyme by Tiffany Jackson.
2018: Children of Blood and Bone by Tomi Adeyemi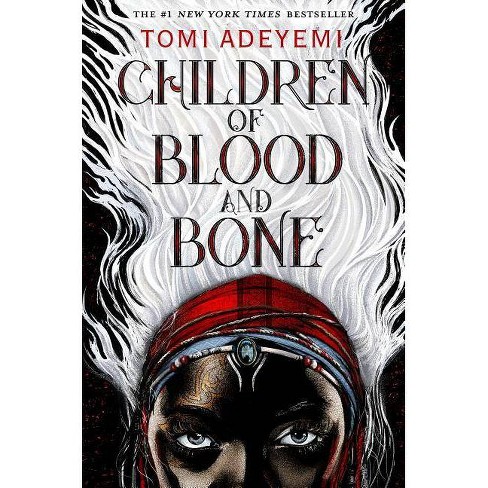 'We have the power to change the evils in the world.'
The movie rights to adapt this YA adventure novel were snapped up prior to the book's release, and an equally exciting and emotional video of Adeyemi opening her box of copies further generated hype for it.
The book is the first in a trilogy and follows Zelie, a young girl tasked with reviving the suppressed magic of Orisha. She joins forces with Amari (who, by the way, should have been the love interest and I still hold out hope that this happens over the series), a princess, in the hopes of fulfilling her mission. They are also pursued by the Zuko of the book, Inan, who develops a treacherous crush on his rival, and shenanigans involving ancient magic, gods, and power ensues.
Notable for how it introduces West African mythology and Yoruba culture to predominantly Western readers, and its powerful themes of resistance, Children of Blood and Bone was a landmark publication that demonstrated how underrepresented authors and narratives can secure success: there's no excuse to keep publishing white, American/Eurocentric stories. The epic worldbuilding is immediately attractive to younger readers looking to engage with dense, intricate narratives, and the characters are enjoyable for their determination and resolve. The central themes of reclaiming agency from your oppressors and making unlikely friends are universal ones, but the total celebration of non-Western lifestyles and cultures thankfully remains prevalent and powerful, rather than obscured to make the book more 'accessible'.
For adults who loved this book but are looking for some more grisly and tough details, I recommend Black Leopard, Red Wolf by Marlon James (however, I also strongly recommend looking up trigger warnings for this one before jumping in because it is definitely not for the faint of heart). For adults and teens, I recommend the Binti series by Nnedi Okorafor, in which a young black girl must unite warring communities in space, and has magical maths hair.
2019: On Earth We're Briefly Gorgeous by Ocean Vuong
'All freedom is relative and sometimes it's no freedom at all, but simply the cage widening.'
Little Dog is writing a letter to his mother, but she cannot read, so we get to peek at it instead. The following pages are packed with Little Dog's musings on gender, sex, and intergenerational trauma; how we inherit the pain of our parents, their parents, and beyond, and how we can possibly try to heal. It's about the simultaneous closeness and distance between parent and child, and immigration, and death.
The grief that permeates this book is a tangible thing, but these difficult topics are treated with a syrup of gorgeous words and an utterly tender and believable voice that it becomes hard to separate the narrator from Vuong himself. Iconic for the buzz it created around bookstagram and booktube, this book introduces a promising new voice to our shelves.
For fans of beautiful words, I have to recommend Don't Call Us Dead by Danez Smith, a nonbinary poet whose work I can't shut up about. I also think it could be worthwhile checking out Autobiography of Red by Anne Carson, for another angsty, sad tale of love and selfhood.
Zoe Robertson, Arts and Culture Editor